Luminous is one of the five Heros who sealed up Black Mage. He dealt the final blow to Black Mage once and for all, but became tainted with dark powers from the Black Mage and stuggled to keep a hold of either Light or Darkness.
During the battle with the Black mage, Luminous and Phantom were the last to arrive upon Freud's instructions. After Phantom quietly vanishes, Guwaru, a Black Mage Commander, challenged Luminous but before they could start the fight, Magnus appeared and killed Guwaru. Luminous attacked Magnus but to no avail and Magnus told Luminous that he is done with the Maple World before leaving.
As Luminous pressed on, he came across Aran who was busy fending off Black Mage's minions. Aran urged him to continue into the Temple.
Upon entering the Black Mage's throne, Luminous found the injured Freud and they communicated through telepathy. Freud told Luminous to seal off the Black Mage once and for all, and he borrowed power from the Goddess of Time and freezes time itself so that Luminous could perform the sealing spell.
After activating the seals, Freud requested Luminous to fight the Black Mage in order for him to use his full power, with Freud manipulating the power of time to help seal the Black Mage. However, when the Black Mage attempted to break free, Luminous was forced to physically clash with him. Though the Black Mage was ultimately defeated, Luminous was tainted in the process.
A hundred years later, Luminous woke up and found himself in Ellinia and met a girl name Lania. Unfortunately, the Black Mage's dark powers gained control and suddenly annihilated the entire area, fatally injuring Lania in the process.
After Luminous regained control over himself, he realised that his light and dark powers are at an imbalance as the dark powers he gained from the Black Mage has began to unseal itself.
Therefore, he has to make a choice, between the Light and the Dark......
Sunfire
Light skills deal 50% more damage, recover 1% HP while the skill is active
Eclipse
Increases the potency of the character attack skills with Dark attributes. These attack skills recover a portion of the HP and cost 50% less MP when this skill is active.
Light Wash (Link skill)
The power of light breaks down enemy DEF, allowing your attacks to penetrate.
Inner Light
Increases willpower, insight and intelligence. The power of light deflects all darkness
Flash Blink
Can teleport to the enemy in the furthest range. But when in town, it will be teleported to random spots.
Equilibrium
Has a chance to activate Power Stance. All damage received will be reduced to 1. No cooldown, increases skill damage output. All light skills will recover 1% of HP. Uses 0 MP.
Light Speed
Teleport in the desired direction by becoming a beam of light. Will be invulnerable for a short time after teleporting. Also permanently increases movement speed and jump.
Standard Magic Guard
Converts a portion of damage dealt so it affects MP instead of HP. Permanently increases physical and magic DEF.
Mana Well
Increases Max MP for a short time.
Abyssal Drop
Drops a condensed orb of darkness on multiple enemies in front.
Dark Affinity
Permanently increases dark magic ATT.
Flash Shower
Fires a condensed orb of light that penetrates enemies as it flies.
Light Affinity
Permanently increases light magic ATT.
Sylvan Lance
Tosses a spear of light to hit multiple enemies.
Blinding Pillar
Detonates a pillar of light that knocks back enemies and has a chance to stun
Pressure Void
Directs an orb of darkness to battle enemies. Move the orb by holding the skill key and steering with the directional keys.
Black Blessing
A dark orb forms when attacks are evaded for a short time in battle. Accumulating orbs will also increase Magic ATT. If there is any damage taken, one orb will destroy and absorb some of the damage.
Magic Booster
Increases the attack speed of the weapon.
Spell Mastery
Magic mastery and magic ATT increase.
High Wisdom
Permanently increases INT.
Spectral Light
Fires controllable beams of light. Steer the beams by holding the skill button and using the directional keys.
Ray of Redemption
Heals party members and deal damage to enemies with power of light.
Moonlight Spear
Fires a chain of dark moonlight from under the enemies' feet
Death Scythe
A scythe-toting reaper descends to destroy enemies.
Shadow Shell
Deflects all abnormal status effects. The shell breaks and must cooldown after a certain number of deflected status effects. Passively increases resistance to all elemental and abnormal status effects.
Dusk Guard
Temporarily increases physical and magic DEF and has a chance to ignore damage.
Photic Meditation
Temporarily increases party magic ATT.
Lunar Tide
Increase either critical rate or ATT, depending on HP and MP.
Reflection
Emits a powerful arrow of light that splits when it hits enemies to deal splash damage.
Morning Star
Drops explosive meteors on enemies.
Apocalypse
Opens the Abyssal Rift under enemies to flood them with void energy.
Ender
Attacks enemies with a giant blade that instantly eliminates them. Deals great damage to monsters that do not fall instantly.
Dark Crescendo
Has a chance to increase damage with each consecutive hit for a short period of time.
Arcane Pitch
Ignores an opponent's DEF and resistance for a short period of time.
Magic Mastery
Magic Mastery and magic ATT increase.
Darkness Mastery
The buff duration of Equilibrium and the restoring speeds for both light and darkness skills increases. Also increases the ATT of Death Scythe.
Maple Warrior
Temporarily increases the stats of all team members.
Hyper Strength
Permanently increases STR by 50.
Hyper Dexterity
Permanently increases DEX by 50.
Hyper Intelligence
Permanently increases INT by 50.
Hyper Luck
Permanently increases LUK by 50.
Hyper Critical
Permanently increases Critical Rate by 10%.
Hyper Accuracy
Permanently increases Accuracy by 20%.
Hyper Health
Permanently increases Max HP by 15%.
Hyper Mana
Permanently increases Max MP by 15%.
Hyper Fury
Permanently increases Max DF by 50.
Hyper Defense
Permanently increases Weapon DEF by 500.
Hyper Magic Defense
Permanently increases Magic DEF by 500.
Hyper Speed
Permanently increases Speed by 10.
Hyper Jump
Permanently increases Jump by 10.
Reflection - Reinforce
Increases reflection's damage.
Reflection - Spread
When reflection spreads, damage no longer gets reduced..
Reflection - Range Up
Increases reflection's range.
Apocalypse - Reinforce
Increases Apocalypse's damage.
Apocalypse - Recharge
Increases the gauge increase amount from Apocalypse.
Apocalypse - Extra Target
Increases the number of monsters that Apocalypse hits.
Ender - Reinforce
Increases Ender's damage.
Ender - Extra Target
Increases the number of monsters that Ender hits.
Ender - Range Up
Increases Ender's range.
Armageddon
Uses the Black Mage's power to render all enemies immobile and deal damage.
Heroic Memories
Recalls the oath of the Maple Heroes to increase damage and max damage cap.
Equalize
Puts character in Equilibrium mode immediately upon use.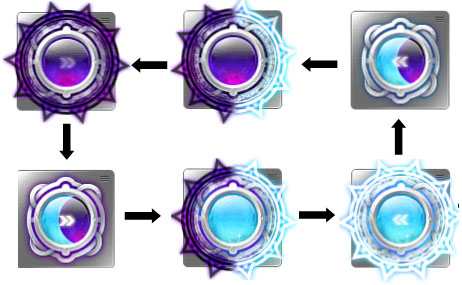 Luminous uses skills that belong to both the dark and light categories. Balance has to be kept in place to fill up the gauge so that when it hits equilibrium, special skills can be activated.
For MapleSEA, the gauge works in the following process: the more often the light skills are used, the damage from them will decrease while the dark skills will become stronger and vice versa.
Thus, the character will have the alternate between both the light and darks skills instead of spamming one skill.