Recent Patch Issues for JUMP : Arising of the Origin
Dear Maplers,

We hear your call of some issues you guys faced when playing MapleSEA. We are working closely with the developers to provide you a better gaming experience.
Current Issues :

1. Experience & Mesos Gained from the monsters : We have received confirmation news from the developers that monsters Experience & Mesos deductions is not a BUG. Here's the new structure of the monster Drops and Experience gained. The higher the level difference between your Maple Character and the Monsters, you will receive a certain percentage of penalty.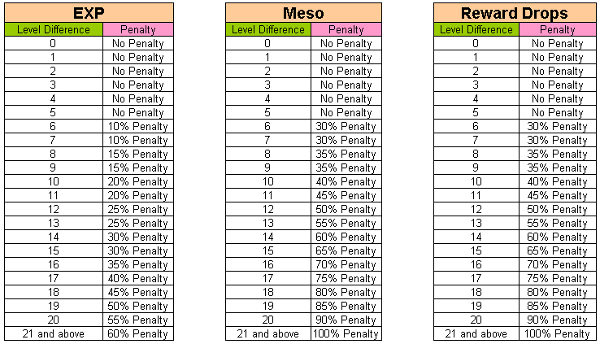 Note:
– If the difference level between your Maple Character and the Monster is above 21 level, you will receive 60% Deduction in Experience, 100% No drops in Mesos and 100% No Reward Drops ( *Example : Weapons / Equipments / Scrolls ).
– Rewards Drops does not include Monster's
ETC
and Potions.
– All boss monsters and normal monsters above level 150 will not be subjected to the reduction penalty.
2.
2x Battle Points (BP) Coupon
: Its has since been removed from the Cash Shop on 13th February 2012 1100hrs (+8GMT) as the coupon is not functioning and 5,000 Maple Points have been credited back to all Maple accounts that made purchases of 2x Battle Points (BP) Coupon as of 13th February 2012 1700hrs (+8GMT).
3.
Random Disconnection & Hack Detection Issues
: Thanks for all the valuable feedback you guys have provided us with, we have forwarded all the possible and highly possibilities disconnection issues to the developers. *Well-Known Cases like Combat Order and Hero Intrepid Slash. We seek your kind understanding as fixing of these critical bugs will require time, but do not worry we would constantly keep you updated with the developers on these issues.
4.
Keyboard setting reset for Aran and Bowman Classes
: To fix this problem, please follow the steps provided below.
Select "Default" keyboard settings and "Save".


This should prevent your keyboard setting from resetting again. You can start setting your personalize keyboard settings again.
5.
Angelic Blessing Recipe and Dark Angelic Blessing Recipe
: Rumors said that the recipes does not drop from any monsters, we would like to use this chance to announce that:
Angelic Blessing is now officially dropping from certain normal and boss monsters.
Dark Angelic Blessing is now officially dropping from certain boss monsters.


– MapleSEA Administrator