Premium Mini Dungeon
Dear Maplers,
From
18th January 2012 to 8th February 2012
, NPC Charlie will open up the Premium Mini Dungeons just for you! What makes these event mini dungeons so special is that all the mobs roaming inside are dropping magical crystals. Just what can these magical crystals be used for?

How to enter Premium Mini Dungeon:
Method 1 – Quest:
Speak to Maple Administrator to gather 4 Mini Dungeon tickets and exchange for 1 Free Entrance Ticket to enter the Premium Mini Dungeon.
Method 2 – Cash Shop:
The Maple Mini Dungeon Ticket will be available in the Cash Shop until the 8th February 2012! So hurry up and get them before they are gone! Each ticket is selling at 1,500 Maple Cash, while a bundle of eleven pieces is available at 15,000 Maple Cash.
Why access Premium Mini Dungeon:
Defeat the monsters to collect the Mini Dungeon Crystals and Diamonds that will trade you some amazing items like Miracle Scrolls and exclusive chairs! Speak to the Maple Administrator to exchange for the items of your choice.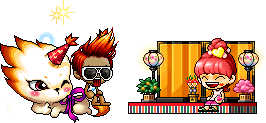 | | | | |
| --- | --- | --- | --- |
| Reward | Mini Dungeon Crystal | Mini Dungeon Diamond | Mesos |
| Mini Dungeon Chair | 3,888 | 8 | 88,888 |
| Mini Dungeon Mastery Book | 7,888 | 8 | 688,888 |
| Mini Dungeon 50% Scrolls | 16,888 | 8 | 888,888 |
| Timeless Equipment | 13,888 | 18 | 1,688,888 |
| Mini Dungeon Miracle Scrolls (10% Stats) | 22,888 | 18 | 1,888,888 |
- MapleSEA Administrator