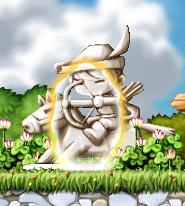 The portals work as the connecting dots for the maps, but some are hidden and unseen on the Mini Map.

Is there a path you can't seem to find? Not able to locate a hidden map?
If so, perhaps it is connected by a hidden portal.

Hidden portals add new dimension to your gaming experience. It works as a shortcut or a hidden gateway for a hidden stage.

Note: Some hidden portals will show up when you move closer, some will not. There are several ways to search for a hidden portal. You can choose to chase other users, ask for directions, or check the area thoroughly.