Shielding Ward Sale
Dear Maplers,


During the legend updates on 14th May 2012, the equipment enhancement system have been revamped.

•For every 5th Star Enhancement, the star enhancement icon will become bigger
•The Max number of enhancement has been increased to 15 enhancement slots.

In order to protect your equipments from breaking due to enhancement, Shielding Ward must be warded to your equipments before enhancing. Shielding Ward sale will start from 7th June to 20th June 2012, so do not miss this chance to stronger your equipments.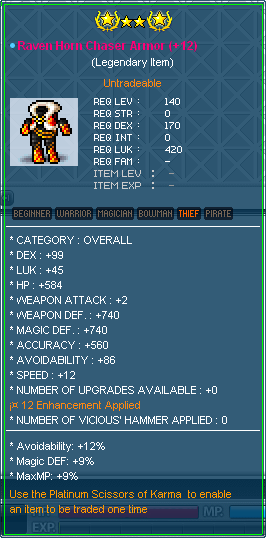 Note:
-Shielding ward will only protect up to
12 star enhancement
.
-No reimbursement will be made upon equipment been destroyed by enhancement on the 13th – 15th star enhancement as shielding ward only protect up to the 12th Stars enhancement.
-Shielding Ward will not work on any "Seal-locked (duration/permanent)" equipments thus no reimbursement will be made.
-Shielding Ward is not stack-able with the Pam's Song.
-Shielding Ward will be consumed when you passed or failed the enhancement slot.


-MapleSEA Administrator