February 2012 JUMP EXP & Drop Rate Celebration!
Dear Maplers,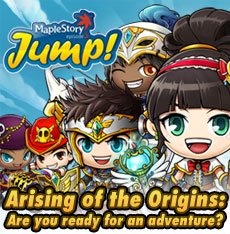 Are you ready to JUMP?
Yes! Jump Patch is approaching and MapleSEA will be having
2x EXP and 1.5x / 2x Drop Rate
events in February 2012 for all the worlds to celebrate the upcoming Jump Patch!
Please refer to event time slots as stated below!
1.5X Drop Rate Events
From 1st February ~ 29th February
(Excluding 9th to 12th February 2012)
Weekdays
Monday to Friday
2000hrs to 2100hrs


Weekends
Saturday and Sunday
1400hrs to 1500hrs
2000hrs to 2100hrs


Jump Patch 2X Drop Rate Celebration


9th and 10th February 2012
Thursday and Friday
1500hrs to 1530hrs
1600hrs to 1630hrs
2000hrs to 2030hrs
2100hrs to 2130hrs



11th and 12th February 2012
Saturday and Sunday
1400hrs to 1430hrs
1500hrs to 1530hrs
2000hrs to 2030hrs
2100hrs to 2130hrs



Jump Patch 2X EXP Celebration
9th and 10th February 2012
Thursday and Friday
1530hrs to 1600hrs
1630hrs to 1700hrs
2030hrs to 2100hrs
2130hrs to 2200hrs



11th and 12th February 2012
Saturday and Sunday
1430hrs to 1500hrs
1530hrs to 1600hrs
2030hrs to 2100hrs
2130hrs to 2200hrs



-Maple Administrator