Gachapon
Gachapon
Gachapon is a famous Japanese machine where random collectable items are dispensed, randomly giving its players a surprise item each time they turn the dispenser.

Are you feeling lucky today?

Pick up a surprise each time you play!
Now you can join in the craze with different Gachapon machines, located in many different towns and stocked with all sorts of items!
How to Use?
Firstly, buy your Gachapon ticket from the Cash Shop. They can come in packs of 10, 15, and 30 for multiple Gachapon cranking pleasure: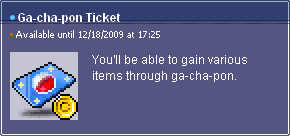 Head off to the nearest town with a Gachapon machine and double click to crank the dial!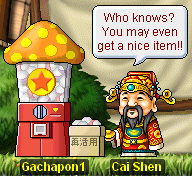 Make sure you have a spare slot in your Equip, Use and Etc tabs!

Your item will automatically be placed in your Inventory.


What surprise awaits you?
The Gachapon machine is filled with various items. The most common are various pots and elixirs but buried inside are also many equipment!

The random item will automatically be deposited in your inventory so do leave space for that rare drop!